Another step for Audio/Video chat on the Linux Desktop
Audio/Video chat is the "next" big thing and a lot of people use Skype already to get that functionality on Linux without much hazzle (certainly a few use Ekiga aswell).
Just recently the popular instant messenger Pidgin joined the ranks with their 2.6 release which introduced A/V chat for Jabber (XMPP) users.
However, finally it looks like there will be a decent way on Linux to have A/V chat with the very popular MSN protocol!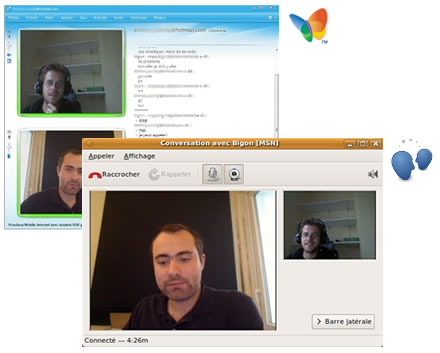 As announced by Guillaume Desmottes, Telepathy, the framework behind the instant messaging client Empathy, has now finally gained support for Audio/Video chat using MSN!
Apart from that he mentions that file transfer and offline messaging support is also done and being merged.
Total awesomeness on the internets.
Telepathy/Empathy is part of the next GNOME Desktop release thus these changes are expected to hit the next cycle of distribution releases.