Microsoft finally joins the browser wars with IE9
As read on the IE developers blog today, it appears the encouraged engineers have finally started to look out of their basement windows.
In the recent months most sites talking about the development of browser technology, made us look into a series of graphs to beat each other in performance of the browser's engine.
Now, this performance race which usually left IE far far far far behind the competition, is obviously not as "ignored" by Microsoft as some people expected.
In the latest post we see graphs of somekind of IE9 development build closing up on the SunSpider Javascript test.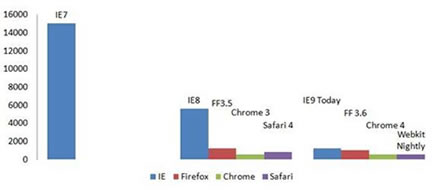 The post also features a stunning mention of the Acid3 standards test where that IE9 version passes with a 32/100 score next to announcing CSS support for rounded corners and plans to use DirectX for hardware accelerated website rendering.
While this in itself looks like "some hope", IE9 still has to play quite a lot of catch-up as latest trends like HTML5 video/audio/canvas tags apparently not have made it into the development builds.
Let the next browser wars finally begin!