iOS 4.0 released: libimobiledevice and music sync with Linux
Apple has blessed us with a new major release of their operating system for their iDevice range of products.
As a lot of people started to ask if one is still able to synchronize music using libgpod on Linux and if libimobiledevice and related works, I'd like to explain the current state of art here.
First of all, libimobiledevice is working fine, all known devices running a firmware up to iOS 4.0 are supported and can be accessed as usual.
One exception is the backup functionality. As git master of the library also recently gained support of restoring backups using the idevicebackup tool, I should note that this functionality needs an update as the mobilebackup protocol version was bumped and changed.
Now looking at music synchronization for media players which use libgpod (like Amarok, Rhythmbox, GTKPod, gpodder and so on) I can say that it is currently half broken.
However, the positive message I can spread here is that the iTunes music database is still signed using the same hash we already support. This means that we'll be able to fix this issue in libgpod soon and make it work with less trouble.
On the other hand it is now also clear that the iPad uses a new hash and music synchronization is not working. iOS 4 is not available for that device anyways until later this year.
So to sum it up: Music sync with an iPhone/iPod Touch running iOS 4.0 with Linux is going to work fine soon, while music sync with the iPad is fully unsupported. So you might want to wait with your update until a newer libgpod is released.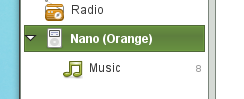 An extra goodie for users of the Banshee media player. Alan was so nice to hack libgpod support into Banshee during the Novell Hackweek, thus support for iDevices is coming soon.